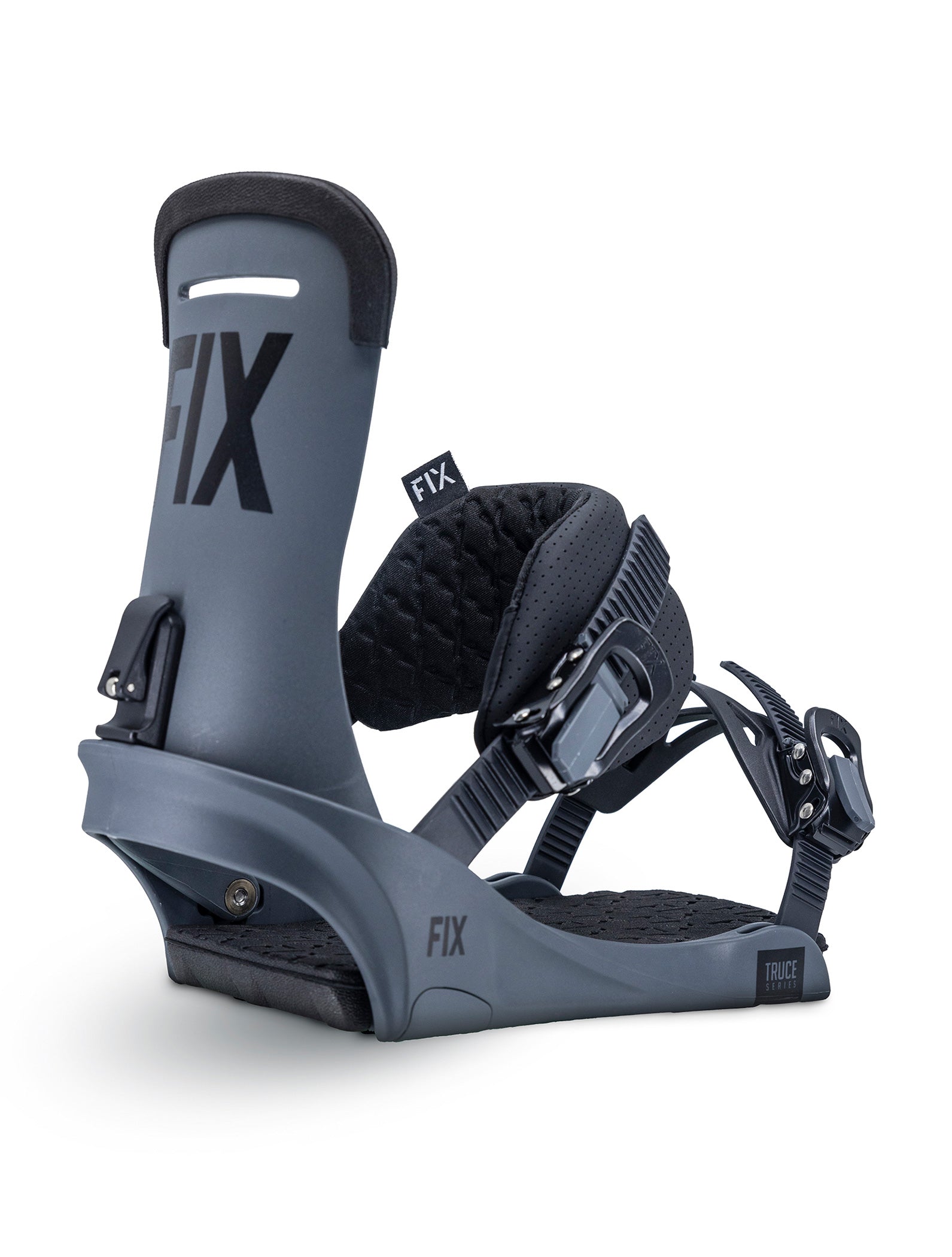 2023 FIX TRUCE CHARCOAL BINDING
pro price
SUPER RESPONSIVE 
ALL 
MOUNTAIN-FREESTYLE
Lightweight all-mountain binding for intermediate to advanced riders. Durability at this price point is unmatched on the market. A medium flex binding that is stiff enough for the most advanced level rider, while having a price-tag that is affordable enough for even the most budget conscious snowboarder. The nylon frame flexes with your board making it a forgiving and fun, yet solid and reliable binding.
RECOMMENDED USE: Park, Freestyle & All Mountain
FLEX RATING: Highback: 6/10 | Base Tray: 6/10 | Overall Flex: 6/10
STRAPS: Stitched Ankle Strap | Injected Gel toe strap
WEIGHT: 826g (per binding)
MOUNT: Compatible with 4 hole and 2 hole systems
TOOL FREE ADJUSTMENT: Yes
IN THE BOX: Mounting hardware | Regrind wax scraper | Bindings (duh!)
WARRANTY: We back these bindings with an industry first lifetime warranty on the basetray and buckles. (1 year on other parts)
Our binding box and hardware holder/scraper are both made from waste from our manufacturing process. This excess plastic (called Regrind) is typically chewed up and injected back into bindings. The problem with this process is that it's impossible to monitor how much Regrind goes back into your bindings which can make them full of air bubbles like Swiss Cheese. Creating a reusable transportation box for our bindings is not only an environmentally friendly solution but also great for the durability of our bindings.